IMPORTANT – It is critical for our community to get resources from the state, we need individuals to report damage through 211.  Regardless of whether your damage was from the river rising or from water coming into your basement through runoff or groundwater, please, please register for 211.  The more people that register, the more recognition and urgency we will get from the state. 
Eligibility: We believe that FEMA will cover not just properties impacted by water from the river/brook, but that properties impacted by stormwater runoff/high groundwater will be eligible. FEMA makes the determination, but we would urge residents impacted to register for 211.
Debris: The state will have a contractor that comes to Chelsea to remove debris related to the storm. There are strict guidelines on where the debris needs to be left, how it is sorted and what is eligible. Please see the diagram below for information on expectations. At this time, we do not know when the contractor will be in Chelsea. We will let you know as soon as we know. In the meantime, please move forward with bringing debris to the edge of the road. And if you need volunteers, please email emd@chelseavt.org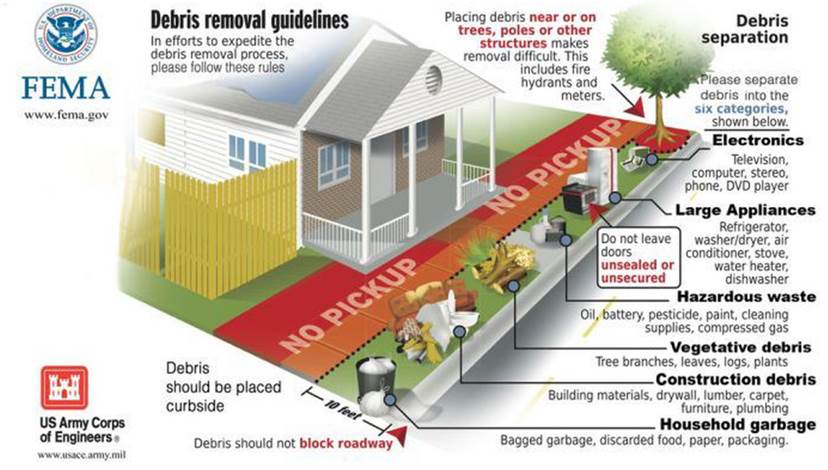 Basement Cleaning and Mold Remediation: The state has contracts for these services AND there are volunteer organizations to do this work. We are working to understand how these resources work and how our community can access these services. Registering with 211 is important to help us get these resources. If you need tree/debris removal, roof tarping, sheetrock and insulation tear-out or spraying for mold, please print, complete and return the form below to Bill and Jan Smith in the black mailbox to the right of the door at NCF (289 VT Rte 110 Chelsea, VT).
Volunteer Needs:
On Sunday, we had nearly 50 volunteers show up to help three homeowners clean out their basements and clean up their properties….it was incredible.
If you have a need for volunteers, please email emd@chelseavt.org or contact any Selectboard member (see email addresses below)
Future Volunteers Needed:

Monday, July 24th at 5 PM: We need a group of volunteers to help unload dehumidifiers, fans, extension cords, etc… from the curbside and bring them into the Town Hall. Hope to see a few folks tomorrow night.

Wednesday, July 26th at 5 PM: We need a team of volunteers to help clean out the Grange Hall and possibly other buildings. Please meet at 5 PM in the back parking lot of the school and we will deploy from there. Please bring shovels and buckets.

Saturday, July 29th at 9AM: For those needing assistance and for those looking to help, we will tentatively plan to gather on Saturday meeting, July 29 in the back parking lot of the school at 9 AM. Please let us know if you need help! We will disperse from the school to those properties needing help.
FEMA – What's next?….. There is a FEMA office open at the Williamstown Public Safety Building at 249 Meadow Street, from 9 AM-5PM seven days a week until further notice. This is for residential property owners to make direct contact with FEMA representatives.
Beyond that, we are working to get information to you regarding their process once you have registered with 211 and FEMA.
Water and Mold:
Selectboard Contacts:
Kevin Marshia: kevinmselectboard@gmail.com
Kelly Lyford: kellylselectboard@gmail.com
Leyna Hoyt: leynahselectboard@gmail.com
Jesse Kay: jessekselectboard@gmail.com
William Lyon: williamlselectboard@gmail.com